Online Learning
Student Assessment Update - for Parents
As we begin our 7th week of at-home learning, we would like to thank you for your continued patience and support as our teachers provide the essential outcomes of their subject to your child. Many students have been asking what assessment will look like during the at-home/on-line learning current situation.
When classes were canceled on March 13, 2020, our students had only completed about 25% of their learning for Semester 2. While Alberta Education mandated that students in all grades who were on track to progress to the next grade/course will do so, we are also very aware that simply advancing students will cause difficulties for them at the next level. All courses and grade levels rely on the skills and knowledge developed in previous grade levels. For instance, Grade 11 math relies heavily on skills and content acquired from a full Grade 10 math course. As such, it is absolutely critical that students remain engaged and learn as much as possible with ongoing feedback from their teacher. Teachers will certainly be reviewing the learning that may have been missed during at-home learning, but students who put in minimal effort now will not have the foundational knowledge and will struggle with next year's concepts. Therefore, it is essential that students stay engaged in their learning.
Below is a summary of how assessment will take place for Semester 2.
Your child's final grade will be based on a combination of your Q3 mark (before classes were interrupted) and their Q4 mark (after classes were interrupted, until the end of June).
As long as your child is engaged in the class on a daily/weekly basis (depending on what is required during the time period) to the best of their ability/circumstance, their final grade cannot drop more than 10% of their mark on March 13th. (Ex. If they were at 80% before classes were interrupted, their mark will not drop below 70% as long as they continue to hand in their work and engage in the class).
In recognition of the fact that some students may not have access to resources or face other obstacles to their learning, we will ensure all students who were on track to pass when classes were interrupted will receive at least a passing mark of 50%.
It is very important for your child to stay engaged in their classes. If they disengage, they will be missing foundational knowledge that is needed in order to handle the advanced material presented at the next level. It will make the next level that much harder to be successful. For example, in the past, we have recommended a minimum average of 65% at the 20 levels to be successful at the 30 levels. Please recognize that if your child requires a 30 level course as an entrance requirement into college/university, acceptance will most likely be based on competitive averages depending on your child's program of choice. If your child requires support, please be sure to have them reach out to their teacher.
As long as your child is engaged in their class on a daily/weekly basis, their mark can increase for the remainder of the semester if they submit quality work!
*Note: Your child's Q4/S2 mark will continue to fluctuate up and down as you hand-in material. All mark adjustments will be made at the end of the semester once all lessons have been completed.
General Online Course Info for Students and Parents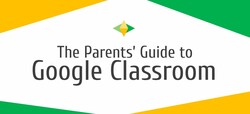 Hi St. Dominic Parents! Thank you very much for your ongoing support over the past few weeks; this has been a unique time for all of us.  We have been hard at work making sure your children will be supported in the coming weeks/months. 
Our main form of delivery will be Google Classroom, and we understand that this many be unfamiliar to many of you. Attached is a guide to help get you started. 
Parent Guide: Google Classroom
If you would like to be added to your child's' classroom so you can keep up-to-date with course content and delivery, please email your child's teacher. 
Student Access to Counselling
Please note counselling services are still available during this time. If you wish to speak with Ms. McWilliam please email her at carolsusan.mcwilliam@rdcrs.ca with what you wish to discuss with her. If you want her to call you back please leave your number and a time that would work for you. She will call you but her phone number will come up unknown as this is her personal phone. Counselling hours are regular school days between 9am and 12pm. 
For more information, please refer to our counselling website.