About
History
Confluence Campus was built in 2005 with three partners including Red Deer Catholic Regional Schools, Wild Rose School Division and Red Deer College. 
It is the converging of "ideas" to offer the students of Rocky Mountain House the optimal setting for learning. It sits on 16 acres and is unique in its concept in delivering education.
Who was St. Dominic?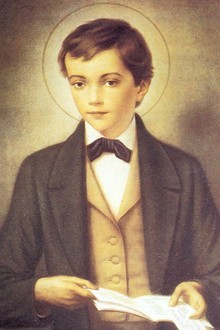 He who seeks the glory of the One who sent him is truthful, and there is no injustice in him. St. John 7:18
SAINT DOMINIC SAVIO
Confessor
(1842-1857)
Saint Dominic Savio was born in Riva di Chieri, Italy, on April 2, 1842. He looked so frail and weak on the morning of his birth that his father rushed him that same evening to the parish church for Baptism. But Dominic survived and began serving Mass when he was five years old, one of his greatest joys. He was often seen at five o'clock in the morning in front of the church on his knees in rain or snow, waiting for the doors to be opened. On the occasion of his First Holy Communion, he made the resolution to die rather than sin, as he had frequently expressed his determination and ambition to become a Saint.
The village pastor at Mondonio, recognizing in Dominic a soul of predilection, arranged to have him enter Don Bosco's Oratory at Turin. Don Bosco soon noted Dominic's consuming quest for sanctity and pointed out to the boy that the path to holiness is not necessarily among hair shirts and tortures of the flesh but in the cheerful bearing and offering of each day's small crosses. Steering the lad away from artificial practices, his loved master showed him that for a soul avid of penance, there is a superabundance to be had for the taking, through acceptance of the monotony and tribulations inseparable from the perfect fulfillment of the duties of one's state of life. After a few months of life in the environment of the Oratory and under the saintly care of Saint John Bosco, Dominic's soul was fired with the zeal of his master, whose rule of life, "Give me souls, Lord; You take the rest," the boy adopted for his own. Following the example of Don Bosco, who in season and out of season sought those souls wherever they were to be found, Dominic also went after them in his own little world. In the Oratory he founded and directed the Immaculate Conception Sodality, a group of boys who by prayer, word and example carried on an apostolate among their classmates and proved to be of valuable assistance to Don Bosco in his work.
On one occasion Dominic broke up a vicious "duel with stones." Standing between the boy-duelists with dramatic suddenness, he flashed a crucifix and said: "This is Friday. Today Christ died for love of us. Can you look at Him and still hate each other?"
When Dominic's health began to fail he was forced to leave the Oratory. Don Bosco and the boys were very sorry to see him leave; he had been a good friend to all. Don Bosco said of him: "His cheerful character and lively disposition made him extremely popular even among those boys who were no great lovers of their faith." His death at his home on March 9, 1857, was sweet and peaceful. Pope Pius XII canonized him in June 1954.
Reflection. "Death rather than sin!" That cry from the soul of Dominic is now, thanks to Don Bosco, resounding across the rude battlefields of teenage purity, seeking echoes in young and generous hearts.
Source: Lives of the Saints for Every Day of the Year (Reprint of the work of John Gilmary Shea, with Appendix including recently canonized Saints) (Benziger Brothers: New York, 1955. Third Edition: Tan Books and Publishers: Rockford, Ill., 1995).
Faith in our School
DAILY PRAYER
Each school day begins with a prayer which is led by a student or staff member. While prayer is being said, everyone is expected to stand still and reverently listen. The prayer begins and ends with the sign of the cross. It is also our expectation that prayer will begin each assembly and activity such as sporting events, meetings and grace at any public meal. Teams begin competition with prayer as a reflection of the importance of prayer in our daily lives. Students are encouraged to use the prayer time for moments of reflection and to focus on various faith journey themes presented in prayer activities. Classroom teachers incorporate additional prayer opportunities throughout the day.
SCHOOL CHAPEL
The Chapel is a special place in the school, designed to encourage an atmosphere of prayer, celebration, and meditation. Students are welcome to visit the chapel and are encouraged to use it as a quiet place to reflect and pray.
YOUTH MINISTRY
As a spiritual position, our youth minister works in the school to support the faith development of students and staff. He supports events in the diocese, parish and jointly with École Secondaire Notre Dame High School in Red Deer. Activities include retreats, leadership events, parish collaboration, liturgical celebrations, sacramental development and gospel-based discussion.