Back to all posts
Posted on
Parent-Teacher Interviews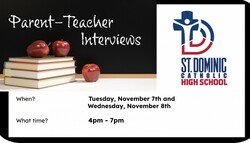 Parent Teacher Interviews will be held Nov 7th & Nov 8th, between 4 and 7pm. We welcome you to join us in person at St. Dominic for an interview.
Please check your email for instructions on how to book your Parent-Teacher Interview.
Any questions or problems with accessing the email or PDF document attachment, please don't hesitate to contact the office on 403-845-5313.